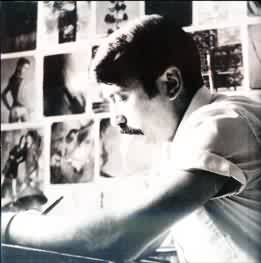 ENRIQUE BADIA ROMERO was born in 1930 in Barcelona, Spain. A bit of a prodigy, the young Enrique started drawing early. He wanted to make a career out of it in spite of his parents disappointment and resistance, and at the tender age of fifteen the famous Emilio Freixas took him in as his apprentice.

By the 1950s Romero was editing his own comic magazine and working for all the famous Spanish publishers. He also started delivering material for European companies, and following the death of Jim Holdaway he started drawing Modesty Blaise in the 70s.

Romero gave Modesty a more romantic look than the rather realistic Holdaway, and liked things to look beautiful yet lifelike. Peter O'Donnell has told a story that Romero found it so painful to draw ugly women for the MB story The Bluebeard Affair, they had to get one of the assistants to show him what O'Donnell wanted the horrible sisters to look like... And while Romero hated the idea of unattractive women, he bravely kept their ugliness until the last panel.
Another thing easily noticed as Romeros handiwork, is the stunning clothes he loved to dress his women in.

In 1978 though, Romero and comic book writer Donne Avenell (also famous for his great work with The Phantom) created the futuristic series AXA, in which a beautiful woman escapes from the Dome of the future where everything is rules and free thinking is not allowed. Axa, wanting to think for herself and reserving the right to run around naked, breaks free and lives a life of struggle against all sorts of monsters which the future seems to be brimming with.